Artist's Point...... More Information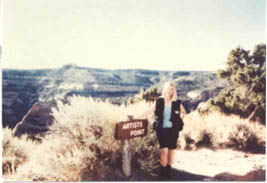 Re: Size and Scale of Paintings:
Paintings are usually a half watercolor sheet 22"by 15".
When you see a smaller photograph of a painting,
that painting is smaller than the standard 22" by 15" and others may be larger.
Commission Work:
Ah, I love to do commissions. I can work from my head, from your head, from photos, from afar.
Should you see a painting with subject matter that you like, I can create a whole new totally different, original, and unique painting, a one of a kind, size, shape, painting style and color to complement your taste and even your decor............And the best part is that I don't charge you an arm and a leg extra, because I really enjoy creating for and with my clients.
Besides watercolors, I do pastel, pen and ink, pencil, charcoal and acrylic.
"Never-Happened" paintings can be done from family photographs, imagination, etc. They can be humorous, sentimental, meaningful......... An example of a Never-Happened painting is "Family on Beach". The Mother and children were "recreated" and painted from an early family portrait . The children had not grown up there, but now their parents can gaze at the painting in their new setting and imagine it so.
Japanese Bookbinding: These are handmade watercolored books with clean pages bound with ribbon. These one-of-a-kind books can be circulated at wedding receptions, birthday parties, anniversary gatherings, and congratulatory and significant occasions. Wedding colors and various themes and motifs can be watercolored on the cover. These hand made books have proven to be thoughtful surprises and keepsakes full of guests' written memories to be enjoyed long afterwards.
Re: Prices
Prices of paintings are either listed or, if blank, are Sold or on Hold.
Pet paintings run from cartoons at $100, and others at $200, $300, etc.
Shipping: Can do... in mailing tubes or framed---by UPS. Fed X. etc.
Please call or e-mail for further directions. My home-studio is open............unless closed, or by appointment.
All paintings and works are copyrighted with All Rights Reserved including reproduction of all paintings.
All works are registered with The Library of Congress in The Copyright Office in Washington, D.C. .